All Products
>
Balloons
>Discount Balloons
---
Neon Colored Latex Balloons (BL-8)
These pearl colored latex balloons offer several subtle and vibrant color options. With such a selection, you can pick the ideal color to best accent your custom imprint.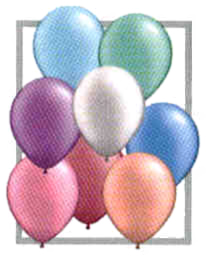 Material: Latex
Size: 11"
Product colors: Blue, Green, Orange, Violet


NOTE: These balloons are limited to a ONE COLOR PRINT ONLY. Second side printing (of one color) is available.
Absolute Minimum quantity is 200
200
500
1,000
2,500
5,000

11RIP/BL-8




11" Round

$0.566


/Piece

0.378


/Piece

0.285


/Piece

0.266


/Piece

0.236


/Piece

Addl. Imprint

$0.05


/piece

0.05


/piece

0.05


/piece

0.05


/piece

0.05


/piece

Balloon decoration:
1)11" Balloon - 4.75" Diameter
---
Average Customer Review:

Write A Review
4-2009 promotional items: 78/200
1@100ct G/0.08 3/0.12 2/0.18 1/0.40 -/-/- 67220KS