All Products
>
Duffle Bags
> Pink Duffle Bag
---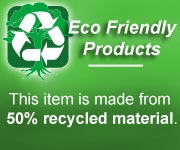 Rainbow of Colors Deluxe Duffle Bag (D-11)
This duffle bag comes in a rainbow of colors and is extremely well built from 600 D poly canvas material making it perfect for everyday use and its also made from 50% recycled material. This bag features a top zippered main compartment, a front zippered pocket, an adjustable detachable shoulder length carrying strap and two webbed carrying handles. With the wide variety of bag colors, you can select the color that will compliment your custom imprint.
Material: 600 D PolyCanvas
Approx. Dimensions: 23.5" W x 11.5" H x 11" D
Bag colors: Orange, Burnt Orange, Safety Orange, Wine Red, Burgundy, Maroon, Hot Pink, Light Pink, Purple, Lavender, Navy, Royal, Light Blue, Kelly, Turquoise, Forest Green, Grey, Light Tan, Earth, Chocolate Brown, Olive Green, Safety Green, Sunshine Yellow, Golden Yellow, Black, White

Absolute Minimum quantity is 50
50
144
500
1,000

D-11




23.5"W X 11.5"H X 11"D

16.99
16.58
14.86
14.36

Discount Price

15.90
13.54
11.90
11.36
Printing
Discount
First color running charge is FREE
Regularly $0.84 per bag
bag decoration:
1) Pocket 4" W x 4" H
1) Pocket 3" Diam.
01-2000 promotional items: 37/435 (7120) - 33/205 (8806) - 37/590 (A8806) - 35/500 (722400)
17@12ct 24/14/7 91722CA